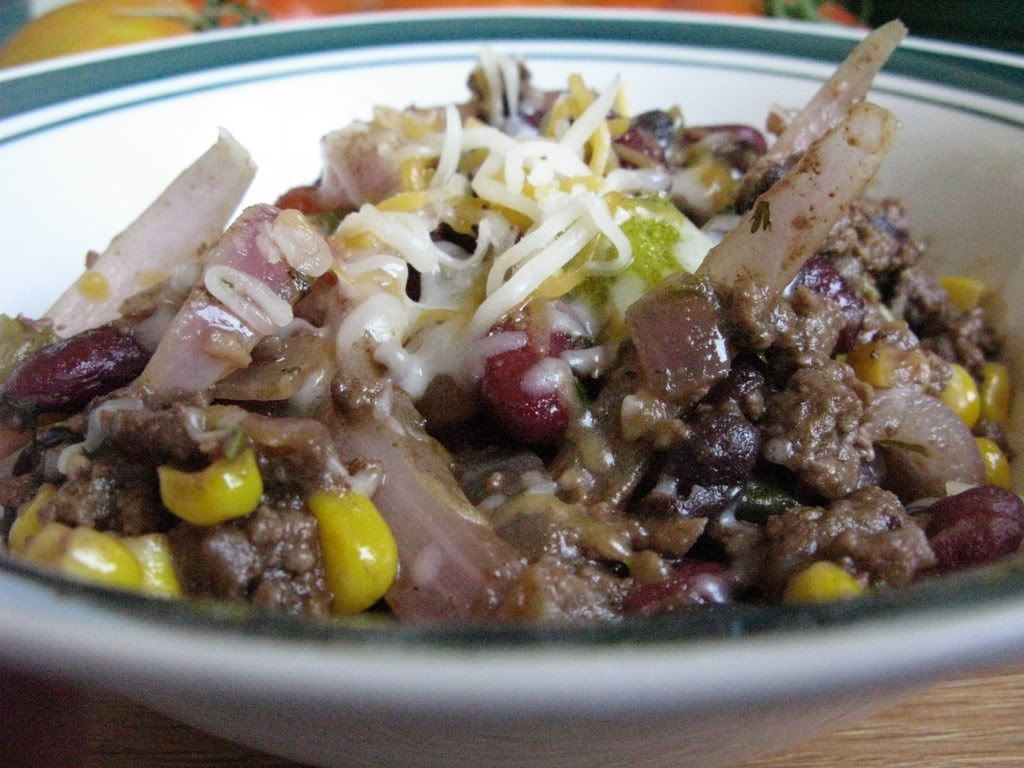 It's no secret that I'm a HUGE fan of chili. I make it all the time. Vegetarian chili, meaty chili, I like them all. I came across a lighter version of chili in the Everyday with Rachael Ray magazine and modified it quite a bit. It came out great! Perfect summertime chili.
Ingredients:
1/3 cup lime juice
1/4 cup chopped fresh cilantro
7 tbsp olive oil
salt and pepper
1 cup corn
1 red onion, half chopped and half cut into slices

2 cloves garlic, minced
2 small zucchini, chopped
1 tbsp chili powder
1/2 tbsp paprika
1 lb ground beef
1 can kidney beans, rinsed and drained

1 can black beans, rinsed and drained
1 tomato, diced
1 cup Mexican 4 cheese shredded blend
Combine lime, cilantro, whisk in 6 tbsp of olive oil to emulsify. Salt and pepper to taste. Set aside.
Heat remaining tbsp of olive oil in skillet. Add onions, garlic, and chili powder. Saute until onion starts to become translucent. Add beef, season with salt and pepper and paprika. Brown beef, drain excess fat from pan. Add the beans, corn, zucchini, tomatoes, red onion slices, and lime mixture. Cover, stirring occasionally, until vegetables are tender. Sprinkle shredded cheese on top and serve.