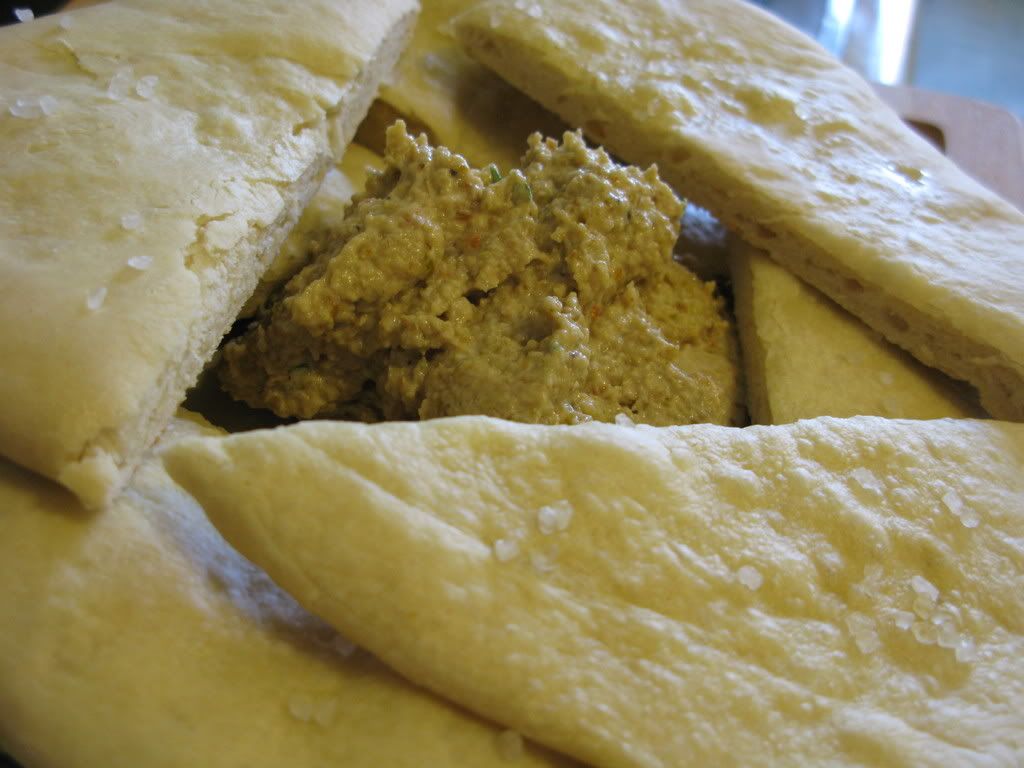 OMG, an update! It has been quite awhile.
We have so much eggplant in the garden it's insane, so we made baba ghanoush and flat bread today. So simple, so tasty! This recipe for flat bread was from an old Martha Stewart Living magazine, not sure which issue. It is the best flat bread I've ever had, really good.
Baba Ghanoush
Ingredients:
1 eggplant
1/4 cup lemon juice
1/4 cup tahini
2 tablespoons sesame seeds
2 cloves garlic, minced
salt and pepper to taste
1 1/2 tablespoons olive oil
Directions:
Preheat oven to 400 degrees F (200 degrees C). Lightly grease a baking sheet.

Place eggplant on baking sheet, and make holes in the skin with a fork. Roast it for 30 to 40 minutes, turning occasionally, or until soft. Remove from oven, and place into a large bowl of cold water. Remove from water, and peel skin off.

Place eggplant, lemon juice, tahini, sesame seeds, and garlic in an electric blender, and puree. Season with salt and pepper to taste. Transfer eggplant mixture to a medium size mixing bowl, and slowly mix in olive oil. Refrigerate for 3 hours before serving.
source
Flat Bread
Ingredients:
2 1/4 tsp active dry yeast
3/4 cup warm water
2 cups all purpose flour, plus more for surface
course sea salt
pinch of sugar
1 tbsp plus 1 1/2 tsp olive oil, plus more for bowl and drizzling
Combine yeast, sugar, and warm water. Let sit 10 minutes, until foamy. Stir well. Combine flour and salt. Add yeast mixture and oil. Mix until dough forms, then begin to knead on lightly floursed surface. Knead 3-5 minutes. Shape into ball and place into oiled bowl. Cover and let rise in warm place until doubled in size, about an hour. Punch dough, divide into 4 pieces. Roll into 6 inch rounds. Drizzle each round with olive oil and sprinkle with coarse sea salt. Place on inverted baking sheet and let cook in 450 degree oven for approx 12 minutes. Let cool, then cut each in half crosswise and serve.