We eat a LOT of hummus around here. With veggies from the garden, pita bread, pita chips, etc. I don't know why I didn't think of making it myself before, especially the pita bread! It was a lot easier than I thought it was be and I'm happy with the results. The family is happy, as well!
For the pita bread, I used
this recipe
from Allrecipes, though I made some changes also. (my changes in purple)
INGREDIENTS
1 1/8 cups warm water (110 degrees F/45 degrees C)
3 cups all-purpose flour

(I used 2 cups all-purpose, 1 cup whole-wheat)



1 teaspoon salt
1 tablespoon vegetable oil

1 1/2 teaspoons white sugar
1 1/2 teaspoons active dry yeast
DIRECTIONS
Place all ingredients in bread pan of your bread machine, select Dough setting and start. When dough has risen long enough, machine will beep.

Turn dough onto a lightly floured surface. Gently roll and stretch dough into a 12 inch rope. With a sharp knife, divide dough into 8 pieces. Roll each i

nto a smooth ball. With a rolling pin, roll each ball into a 6 to 7 inch circle. Set aside on a lightly floured countertop. cover with a towel. Let pitas rise about 30 minutes until slightly puffy.

Preheat oven to 500 degrees F (260 degrees C). Place 2 or 3 pitas on a wire cake rack. Place cake rack directly on oven rack. Bake pitas 4 to 5 minutes until puffed and tops begin to brown. Remove from oven and immediately place pitas in a sealed brown paper bag or cover them with a damp kitchen towel until soft. Once pitas a softened, either cut in half or split top edge for half or whole pitas. They can be stored in a pla

stic bag in the refrigerator for several days or in the freezer for 1 or 2 months.
I don't have a bread machine, so I dissolved the yeast and sugar in the warm water and let it sit for 5 minutes to make sure it was active. After it started bubbling I mixed in the oil and salt, then gradually added the flour in to make a dough. Once the dough was made I kneaded it by hand for 8 minutes. After kneading I let the dough sit in an oiled bowl covered with a dish towel in a warm spot (my utility room is always HOT, so I always let yea
st breads rise there!) After 45 minutes, I took the dough and formed it into a rope and divided it into 8 pieces. I rolled the pieces into rounds, covered them with warm damp paper towels and let rise for another 30 minutes. When the time was up, I baked as directed (500 degrees for 5 minutes.)

I am really happy with how they turned out. They aren't as puffy as the pictures on allrecipes, but I think the texture and taste was perfect.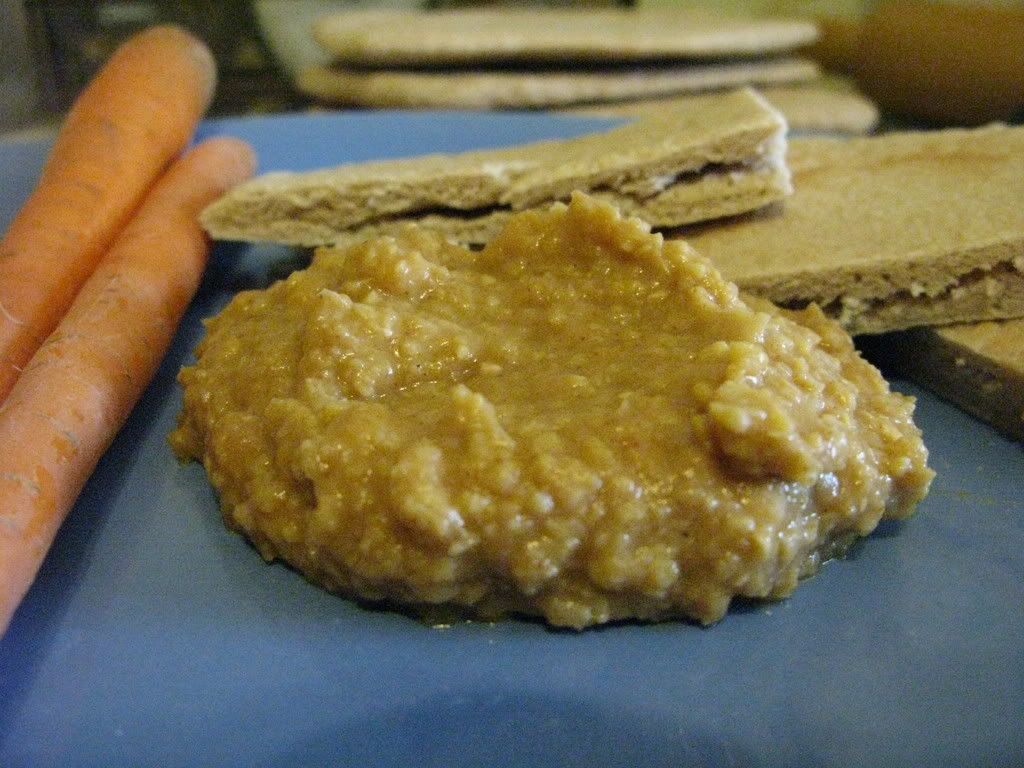 For the hummus, I used
this basic recipe
with some changes of my own, of course! I didn't have tahini (H bought sesame OIL instead of PASTE) so I had to make do with what I had.
INGREDIENTS
1 (15 ounce) can garbanzo beans, drained, liquid reserved
1 clove garlic, crushed

(I used 2 cloves...I love garlic)



2 teaspoons ground cumin

(I was out of cumin, so I used paprika instead)



1/2 teaspoon salt
1 tablespoon olive oil

(I did 1/2 olive oil and 1/2 sesame oil for the nutty taste)

I also used the juice of one small lemon



DIRECTIONS
In a blender or food processor combine garbanzo beans, garlic, cumin, salt and olive oil. Blend on low speed, gradually adding reserved bean liquid, until desired consistency is achieved.
The consistency was a little more gritty/grainy than I'm used to with store-bought hummus, which I think tahini would have taken care of. The taste is absolutely fabulous, though, and it went well with the pita and some carrots straight from the field!