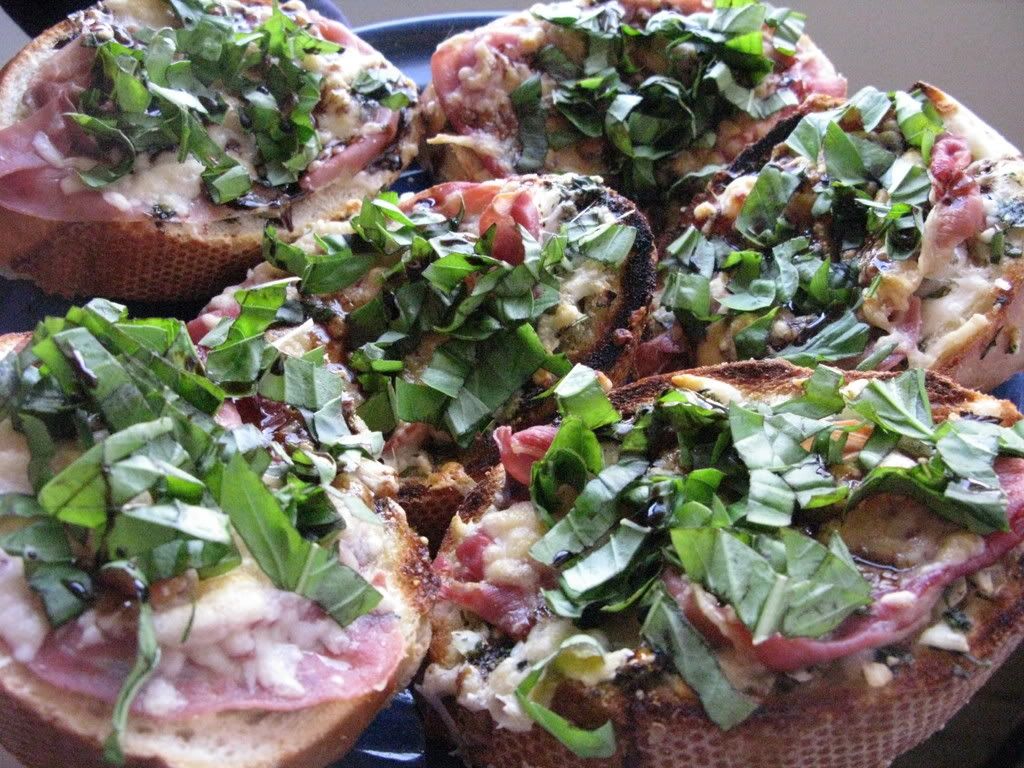 My husband makes the BEST bruschetta in the world. Seriously, the best. We ate this all the time when I was pregnant with Keira. Hello, cravings! I would make him run to the store in the middle of the night for prosciutto. Lucky guy! The recipe is informal, adjust to your own tastes. We don't measure around these parts.
INGREDIENTS
1 loaf French bread
4 cloves roasted garlic (adjust to taste, we love garlic)

1/4 cup olive oil
1/4 cup balsamic vinegar
1 tbsp brown sugar

8 slices prosciutto (1 slice for each piece of bread)
large bunch of fresh basil
a few sprigs of fresh rosemary
1/2 cup to 1 cup grated parmesan cheese
1 tsp dried Italian seasoning

Directions
First, put the balsamic vinegar and brown sugar in a small sauce pan over medium heat on the stove to make a balsamic reduction (stir occasionally). Slice the French bread at a bias, should yield about 8 slices or so. Place the slices of bread on a cookie sheet under the broiler for a minute or two, until slightly toasted. Meanwhile, chop up the rosemary and mix it with the olive oil and Italian seasoning in a small bowl. When the bread is toasted, remove it from the oven and rub the tops with the roasted garlic. Brush the oil and herb mixture on top of the bread, then place one slice of prosciutto on top of that. Sprinkle the tops with parmesan cheese and place under the broiler until the cheese is bubbly and slightly browned. Chiffonade the basil (roll it up and cut it into long, thin strips like confetti) and add it to the top of the bruschetta. Drizzle the balsamic reduction over the top and serve!
*we also usually add tomatoes but we didn't this time*